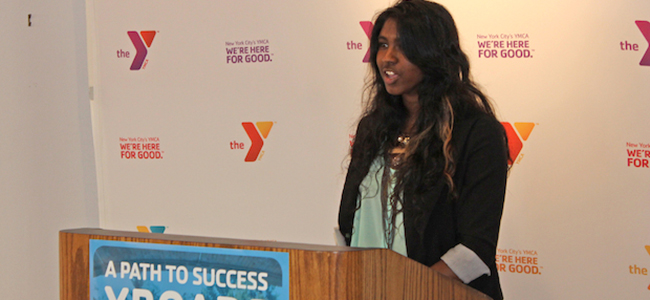 YMCA Launches Program for Disconnected Bronx Youth
Thursday, October 30, Eddie Small, DNA Info
THE HUB — High school wasn't working out for Viatris Balbi.
Although she enrolled at a school in Manhattan late in 2012, she found the material boring, the classes too large, the students unfriendly and the individual attention from teachers lacking, so more often than not, she would just decide not to show up.
"I didn't have any ambition at the time," she said.
However, about two weeks ago, Balbi, 17, started taking courses with Y Roads in The Bronx, a free program geared toward helping improve the lives of 16- to 24-year-olds in the city who are not working and not in school.
She is now working toward her high school equivalency degree in a class with about eight students, as well as getting certified in retail and Microsoft Word. She has discovered a love of reading and writing and hopes to attend college.
"Now I'm sticking to it," she said. "I come every day, and I like it a lot."
Y Roads is a partnership between the YMCA of Greater New York and the nonprofit Opportunities for a Better Tomorrow, and the two groups celebrated the launch of a new center for the program in The Bronx on Thursday at 332 E. 149th St.
The first Y Roads Center opened last year in Jamaica, Queens, and the YMCA hopes their new Bronx center will help the group establish a stronger presence in the borough.
"So many young people, we want them to get their lives on track, to find careers," said Jack Lund, president and CEO of the YMCA of Greater New York.
Randy Peers, CEO of OBT, said he hoped the center would help prepare local youths to benefit from the new opportunities opening up for them in The Bronx, especially given the energy surrounding The Hub, where a host of new developments ranging from Metropolitan College to Vistasite Eye Care are set to arrive.
"These kids are hungry for opportunity," said Peers. "Our job is to prepare them for that and open the door so they can take advantage."
Y Roads has been up and running in The Bronx for a few weeks, and a new YMCA is set to open in the borough as well.
The facility will be part of the nearby "La Central" development, a mixed-use project also including affordable housing and retail space, and it should open by late 2016 or early 2017, according to Lund.
New York City Councilwoman Vanessa Gibson spoke at Thursday's celebration and referred to Y Roads as a huge benefit for the community.
"This is an investment in the future," she said. "This is an opportunity to rebuild, to give so many young people a second chance."
One of those young people, 19-year-old Leeanna Ramoutar, spoke at the ceremony to discuss her experience with Y Roads in Queens.
Ramoutar dropped out of high school about a year ago because she felt the environment was a difficult place for her to learn, she said.
She planned to pursue a singing career but then had her tonsils taken out and was not really sure what to do with herself.
"I felt closed off, like I was stuck between two rocks," she said.
However, after she started attending Y Roads based on her aunt's recommendation, she realized that it was a much better fit for her, and she now hopes to attend college for fashion design.
"It's my pleasure to welcome young achievers like myself to Y Roads," she said, "and I'd like to encourage you to take advantage of the opportunities that you are given here."
Originally posted in DNA Info