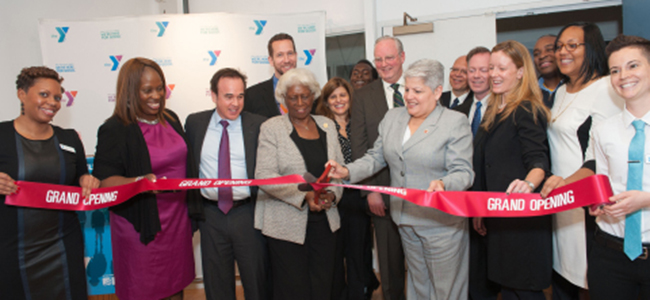 Y Roads Program Expands to the Bronx
The YMCA of Greater New York and Opportunities for a Better Tomorrow (OBT) celebrated today the Bronx borough expansion of the Y Roads program, which puts New York City's "opportunity youth" on paths towards higher education and careers. On hand to celebrate the new center were Bronx Deputy Borough President Aurelia Greene, District 16 Council Member Vanessa L. Gibson, and District 17 Council Member Maria del Carmen Arroyo.
"At NYCEDC, linking disconnected New Yorkers with new career pathways in entrepreneurship, science, math, technology, and medicine, and new industries, is a major priority"
The new Y Roads Center will focus on disconnected youth – the almost quarter of a million 16-24 year-olds in New York City who are neither employed nor in school – and connects them to jobs and learning experiences that increase their ability to build careers. The 360-degree, center-based model of Y Roads combines the Y's historic strengths as a youth service provider with OBT's proven expertise in job training and workforce development.
"The opening of this new Y Roads Center helps to cement and expand the Y's footprint in the Bronx," said Jack Lund, President & CEO of the YMCA of Greater New York. "New York City's YMCA is here for good, and we are here today to give young people in the Bronx the support they need to achieve their goals. We've had enormous success at our first Y Roads Center, in Jamaica, Queens, and we look forward to repeating that success here in the Bronx."
In addition to job training, the Y Roads Center in the Bronx will offer counseling, academic support, and skills training, including for industry-approved credentials such as Microsoft Office certifications, National Retail Federation certifications, and first aid and CPR certification.
Last year the first Y Roads Center opened in Jamaica, Queens, and since has served more than 400 older teens and young adults from across the five boroughs. Participants in the Y Roads program have an unprecedented 86.2 percent completion rate. More than half of the workforce training graduates have successfully been placed in full-time jobs, post-secondary education programs, or more targeted occupational training programs. Together, participants have completed more than 1000 hours of community service and service learning.
"There are a lot of positive things happening in the Bronx including new business creation and strong job growth, but the youth unemployment and high school dropout rate are both stubbornly high," said Randy Peers, CEO of Opportunities for a Better Tomorrow. "Through Y Roads we will provide young people with the skills and academic support necessary to take advantage of these new employment opportunities throughout the Bronx and beyond."
The overwhelming majority of disconnected young people in New York City live in low-income households and communities, with a disproportionate percentage residing in the Bronx. According to the 2009 – 2012 American Community Survey, Bronx neighborhoods Mott Haven and Hunts Point have the highest number of Out-of-School and Out-of-Work (OSOW) youth in NYC with 37.2 percent of the population in this area – and 4.8 percent of the entire city's population – currently OSOW. That adds up to more than 8,800 young people that could use Y Roads services.
"The Y Roads program offers our disconnected youth a chance to move forward, providing job training and other critical life skills to some of our most at-risk communities," said Deputy Bronx Borough President Aurelia Greene. "I commend the YMCA of Greater New York and Opportunities for a Better Tomorrow for bringing this program to the Bronx, and I look forward to helping direct those youth who need this assistance towards these necessary services."
"Investing in our youth – and in the future of our community – the Y Roads Center at East 149th Street in the Bronx is a vital resource for those seeking to gain essential skills and achieve their high school equivalency degree," Council Member Vanessa L. Gibson (D-Bronx, 16th CD) added. "Going beyond a cookie cutter approach, the Y Roads Center has a supportive and knowledgeable staff that knows how to work with youth to overcome barriers and achieve attainable goals while building a foundation for future successes."
"At NYCEDC, linking disconnected New Yorkers with new career pathways in entrepreneurship, science, math, technology, and medicine, and new industries, is a major priority," said Kyle Kimball, President of the NYC Economic Development Corporation. "Programs like Y Roads are a testament to how critical young people are to the economy of today and of tomorrow. We look forward to working with the Y and our other community partners into the future to cultivate the full potential of the Bronx."
About the YMCA of Greater New York
The YMCA of Greater New York is, and always will be, dedicated to building healthy, confident, connected and secure children, adults, families and communities. With a focus on youth development, healthy living and social responsibility, the Y nurtures the potential of every youth and teen, improves New York City's health and well-being and provides opportunities to give back and support neighbors. In scores of neighborhoods across the five boroughs and its camp upstate, the Y makes accessible the support and opportunities that empower more than 500,000 New Yorkers to learn, grow and thrive. Visit ymcanyc.org. Follow us on Twitter @ymcanyc and Facebook at facebook.com/ymcanyc or visit www.ymcanyc.org.
About Opportunities for a Better Tomorrow
Founded in 1983, OBT specializes in providing academic and vocational training empowering women and men from low-income neighborhoods to become self-sufficient with rewarding jobs and futures. OBT is best known for its Youth Education and Training Program, which provides business-skills training with integrated high school equivalency classes to young adults in a simulated corporate environment. OBT also serves adults with job-training and literacy programs. All trainees receive extensive job-retention support after placement. OBT serves more than 5,000 clients annually and has 70 fulltime employees.